Domains Registration Services
Domains
START FROM AS LITTLE AS
$12.99 per year
Register or Transfer Your Domain Now with IBSPoint…
FREE!
with EVERY Domain Name:
Privacy Protection
DNS Service
Domain Forwarding
Unlimited Mail Forwards
Domain Theft Protection
IBSPoint Domains Registration Services
Why do you need a Domain name?
Domain names are a human friendly version of a website address. Without a Domain name, you would be stuck with a load of numbers. Not great for marketing purposes!
So we use Domain names to identify sites. When choosing your Domain name you should select a term people will use to search for your site. Most obviously, this could be your brand or personal name.
At IBSPoint.com we provide you with the best domain registration options and pricing. We give you for Free what others charge you for! Check out the free services you get with every domain you register or transfer to IBSPoint.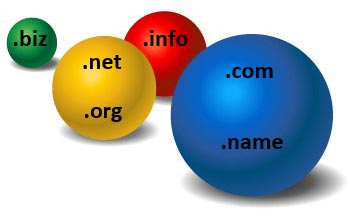 What are Domains?
Your web address
A domain name is the address that people use to find you or your company on the web. Put simply, it's what you type in the browser's address bar to go to a specific website.
For example, our domain name is: http://www.ibspoint.com (in today's browsers, it's not necessary to type the symbols http://). You can get as many domain names as you want if you are planning to run several websites or blogs.
What can I do with a domain name?
With your domain name you can set up a website but you can also use it for a lot of other things, such as:
Send mail – use your email address as a webmail account or forward emails to another address.
Start blogging – publish photos, ideas and thoughts on your own personalised blog.
Publish a webpage instantly – create your free homepage or get a unique website up and running in minutes using our fantastic, easy to use InstantSite builder tool.
Park it – maybe you haven't decided what to do with your new domain name. Dont worry, theres no rush. You can leave it parked with us for the time of your registration.
Tell the world – share your new online identity with everyone you know.
What is a domain extension?
A domain extension describes the ending of a domain name, these can also be referred to as the tld (top level domain), suffix, or domain root.
.com, .net, .org, .info, .biz, .us, .eu, .ws, & .name are examples of a domain extension.
It is common for websites to register the same domain name with multiple domain extensions; increasing the likelihood of a visitor finding the way to your site, and protecting your brand.
More about webmail
Webmail is a great way to access your mail when you're away from your personal computer. It's very similar to your regular email program. All you need is internet access and a web browser.
How do I buy a domain name?
Think of a name
Choosing a domain name doesnt have to be a hassle. Try to choose a name that is easy to remember, short and, if possible, one that represents your website. For instance, an online shopping service may use a domain name like www.ibspoint.com.
Check availability
To check if a domain name is available, use our domain checker tool. Simply type the name you want into the search box and if its available, go for it!
Many of the popular domain names will already be registered, so be prepared to use your imagination and consider alternative domain endings (like: .net, .biz, .com).
Register
Once you hit the search button, the available domain names will be displayed on the page and you can choose which one(s) you want to buy. Your new domain name may take up to 48 hours to complete the registration process.