The cPanel Web Hosting Control Panel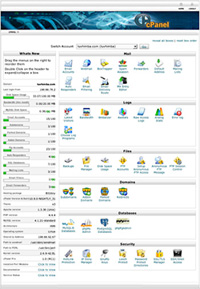 At IBSPoint, we offer this industry-standard control panel with all of our shared linux hosting plans. cPanel provides complete administrative control over the hosting environment, with distinct and brandable login screens and URLs for server administrators, and domain administrators.
Inexperienced cPanel users can quickly learn how to manage their site with the extensive, built-in video tutorials and FAQs. Advanced cPanel users will enjoy the freedom to control almost every possible facet of web hosting administration, as demonstrated by the features list below. We are confident you will find cPanel the solution to your site administration needs.
cPanel Control Panel Features
Domain Management
Addon Domains
Parked Domains
Redirects
Subdomains

Email Management
Account Level Filtering
Auto Responders
BoxTrapper
Default Address
Email Accounts
Email Authentication
Email Delivery Route
Forwarders
Mailing Lists
MX Entry
Spam Assassin
User Level Filtering
Webmail

Database Services
MySQL Databases
MySQL Database Wizard
phpMyAdmin
Remote MySQL

Advanced Features
Apache Handlers
Cron Jobs
Error Pages
FrontPage Extensions
Image Manager
Index Manager
MIME Types
Network Tools
WebHost Manager (Resellers Only)

File Management
Backup Wizard
Backups
Disk Space Usage
File Manager
FTP Accounts
FTP Session Control
Legacy File Manager
Web Disk

Web Site Security
GnuPG Keys
HotLink Protection
IP Deny Manager
Leech Protect
Password Protect Directories
SSH/Shell Access

Log Administration and Reports
Analog Stats
Awstats
Bandwidth
Choose Log Programs
Error Log
Latest Visitors
Raw Access Logs
Weblizer FTP
Webalizer

Preferences
Branding Editor (Resellers Only)
Change Language
Change Password
Change Style
Getting Started Wizard
Update Contact Info
Video Tutorials