IBSRack Overview and Technical Support Documentation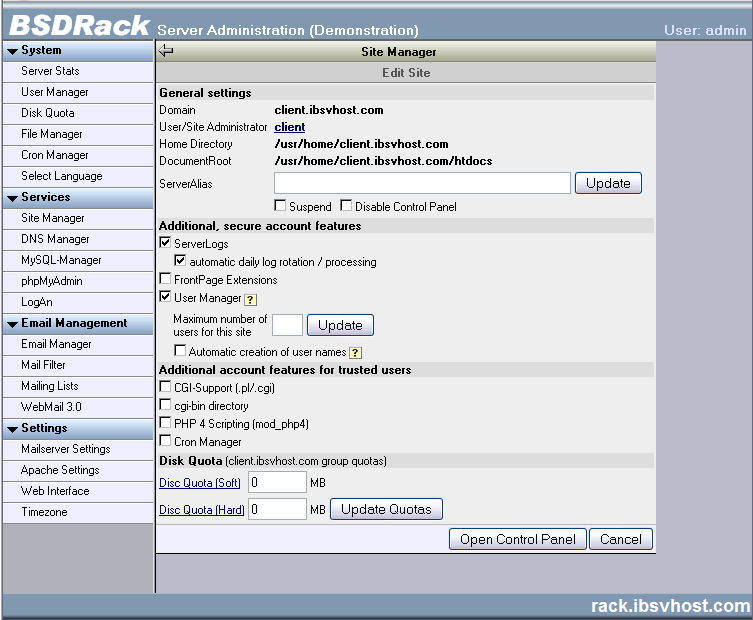 The IBSRack dedicated servers available from Smart Servers and Smart Servers.com have been designed as an alternative to the Cobalt "RaQ" and other types of Linux and Windows based dedicated servers offered by other providers. These servers are an attractive alternative which are competitively priced and suitable for high end web hosting and serving applications for web designers, web hosting providers, ISP's, ASP's, Internet consultants and systems integrators as well as corporate and small business applications.
The IBSRack range of dedicated servers utilize the highly secure and reliable FreeBSD operating system and are equipped with an advanced Web Interface Control Panel System. These servers are a robust and reliable solution for mission critical e-commerce and virtual hosting applications and do not suffer from the reliability and security issues experienced by most Linux and Windows based systems.
The IBSRack servers offer full and unrestricted root/superuser access to a FreeBSD Unix based operating system as well as advanced web interface control panels for both the main server administrator and all of the virtual sub-hosting users. The virtual sub-hosting site users can be allowed the ability to create and manage their own user accounts which can be allocated with both hard and soft disk space quotas and a maximum number of user and/or email accounts which can be created by the virtual sub-hosting user can be specified by the server administrator. The IBSRack system includes a complete and dedicated version of the Apache Web server which runs as a standalone daemon and provides support for most of the popular Apache modules. A stand-alone httpd server allows for faster web server response, enhanced security, and increased flexibility and control. You have complete access to your Apache configuration files should you wish to modify or customize any aspect of your web servers configuration.
Each IBSRack server comes complete with it's own dedicated web, mail, and ftp servers, providing you with full control over all aspects of your servers configuration. With full root access you have total control over your server environment. You can compile and install any software desired, create POP3, FTP, TELNET or SSH users and access all server configuration files.
The operating system on the IBSRack servers is a standard version of the FreeBSD OS with a number special modifications having been made to enhance the system which means that all of the standard file structure, services, and commands of a "generic" FreeBSD dedicated server operating system are maintained. Support for PHP4. MySQL, FrontPage and other common applications has been pre-installed for you and the many third party applications or "ports" which are available for both the FreeBSD and Linux operating systems will be compatible with your new IBSRack server. Most of the documentation relating to the BSD Unix type servers would apply to the IBSRack servers and much of the extensive documentation and resources available at the FreeBSD web site at www.freebsd.org will directly pertain to the IBSRack server core operating system.
Unlike dedicated servers available from other providers the IBSRack servers offer you a "semi-managed" server solution at no additional cost in that regular updates of all of the core operating system software including Apache, Sendmail, Perl, MySQL, FrontPage, etc, will be continually updated as the latest versions become available so there is no need for you to have to compile your own versions or install patches and bug fixes as these updates and installations will be handled for you by our support department. Again, there are no additional charges involved for this service.
Another free service with the IBSRack system is daily file backups. All of the data on your IBSRack server is automatically backed up to our central network file system once daily at midnight GMT. If you require the restoration of any data you can request that a specific file or directory be replaced for you from the backup archive or a compressed tar file of all of the data on your server can be provided so that you can retrieve any data that you may require. Again, there are no additional charges either for the daily backup service or for the retrieval of data from the backup archives.
To maximize administrative and end user control over the various features and services on the IBSRack system these servers are equipped with advanced web interface control panels allowing most administrative tasks to be executed easily with a JavaScript enabled web browser such as Internet Explorer 5/6 or Netscape Navigator 4 or better. The web interface control panel system allows you to create and manage user accounts, set up domain based web sites, manage email accounts and aliases, access web site statistics and much more. Both the main administrative and end user client control panels are available in 10 different languages, English, German, Spanish, French, Portuguese, Russian, Greek, Albanian, Italian and Dutch with additional languages to follow in future.
The IBSRack system is equipped with all of the absolute latest versions of the core operating system software and will be continually supported and updated as soon as new versions become available. For instance, the current web server version is Apache 1.3.34 with PHP 4.4.4 and the MySQL version is 4.4.4.
The operation and maintenance of the IBSRack both via the web interface control panels and via the command line will be covered extensively in the following documentation however if you have any questions about the operation of your new system which you are not able to find answers for in either the local documentation provided here or in the extensive FreeBSD related documentation already available on the FreeBSD web site and the various related news groups, mailing lists, user groups and other resources please do not hesitate to ask us for advice or clarification.
IBSRack Operations and Maintenance Documentation

Getting Started with the IBSRack
To log into your server via telnet or ssh you should first log in as the "admin" user and then "su" (switch user) to root (command: "su root") with the admin and root passwords provided in your configuration and login details. Direct login as "root" is not available on these systems for added security. In general, root level access should be entered into only when root level operations are required to be carried out. So as to avoid accidental damage to your server it is a good practice to exit root level access and return to the "admin" level when you are not carrying out root level operations and related tasks. For information on command like operation and maintenance of your server see the section on Basic Unix System Administration & Commands.
The main administrative web interface for the server is located at the following URL's:
http://your_servers_ip_or_domain:8001/bin/menu
Note: http://your_servers_ip_or_domain:8001/
will work as well, as this address is automatically forwarded
to http://your_servers_ip_or_domainm:8001/bin/menu.
The ADMIN (admin) username and password should be used to log into the web interface and not the "root" username.
Each virtual hosting site you set up on your server will have its own web interface control panel at the following URL:
http:/client_domain.com:8001/bin/menu
Telnet login and command line operation and maintenance of the IBSRack is covered in the section on Basic Unix System Administration & Commands.