SaaS Products
IBSPoint.com offers a full range of hosted services, giving you access to secure, reliable, full-featured messaging and collaboration solutions that don't require the investment and ongoing management resources to deploy them on your own.

Increase your business's efficiency with hosted Microsoft Exchange 2010. Exchange 2010 includes many new features to help your employees boost their productivity by offering a consistent inbox, calendaring and contacts experience across the PC, browser and mobile phone.
Exchange 2010 offers an enhanced Outlook Web App that can be accessed from Firefox and Safari browsers, in addition to Internet Explorer. Plus, enhancements to mobile access allow you to extend the productivity benefits of Exchange to workers even when they're away from their PC.

Hosted Windows SharePoint is a powerful platform for building shared document repositories, corporate Intranets and project specifics website. There is no hardware or software to manage, and accessible anytime, anywhere through a web browser.
Windows SharePoint is designed to increase productivity. Businesses of any size can leverage SharePoint to create document storehouses to increase collaboration within a company and between a company and its partners, vendors and customers.
With Windows SharePoint you can share documents, calendars, contacts, links, ideas and more, without wasting time exchanging inefficient emails.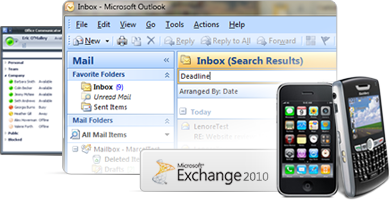 Hosted mobile email solutions let you easily and quickly enable secure, robust business-grade mobile email for BlackBerry® and ActiveSync-enable PDAs and smartphones. Using "push" technology, mobile email solutions give you all of the features of your PC- or browser-based email right from your mobile phone.
No matter your mobile device, platform or wireless carrier preference, our solutions will help you stay connected to colleagues, partners, and customers so you can keep your business moving no matter where you are.
MessageMirror provides your business with a simple, powerful archiving solution for storing, retrieving and searching all the emails sent and received through your hosted Exchange service.
With MessageMirror you can:
Keep backup copies of emails
Recover deleted items
Conduct cross-mailbox searches
Reduce primary mailbox size

Hosted Exchange Service Add-Ons

A number of additional features can be added to your Hosted Exchange service to increase your productivity and security.
Outlook 2007:
a full featured desktop client where you can manage email, calendars, contacts and tasks.
Company Disclaimer:
add HTML or text disclaimers to your messages to communicate a company-wide email policy.
Compliant Archiving:
retain your email and electronic records for compliance with HIPAA, Sarbanes-Oxley and other regulations.
Directory Link:
sync username/password and other user attributes between your on-premise and hosted applications.