About IBSPoint
IBSPoint.com is fully owned by Sami Al-Taher Information Technology Establishment, a Amman, Jordan based full IT consultancy and Internet business solutions provider.
IBSPoint was created to cater for an ever growing demand from the local Jordanian as well as pan Arab and Middle Eastern markets for Internet services solutions provider that fully understands the Internet as a technology and a true business tool to help these companies realize the full potential from their online presence.
At IBSPoint we pride ourselves at providing a complete solution for our customers following our IBSPoint 360 solution methodology as outlined below, making us a unique solution provider for internet services in the whole of the Middle East.
The IBSPoint 360 degrees solution philosophy:
Our philosophy is to provide unique value to our customers by providing them with a full 360 degrees solution for their IT and Internet needs.
The diagram below shows the various solution categories offered by IBSPoint.com and how each component of the 360 degree IBSPoint circle closely connects the other components around it in order to complete the solution.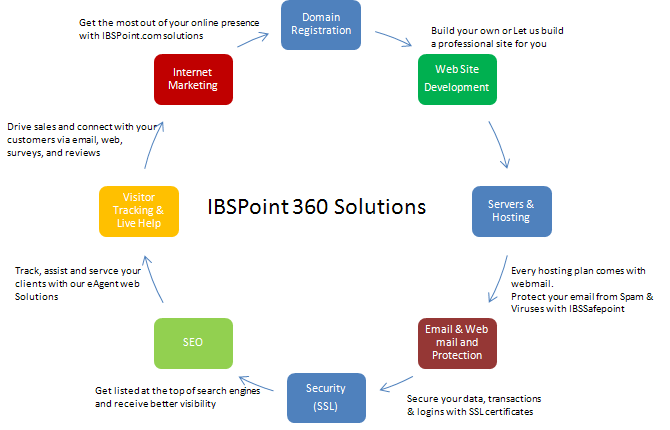 Each of the various components in our solution portfolio is branded as a fully functional independent service:










---
IBSPoint Management
Founder and CEO: Sami Al-Taher
Sami Al-Taher is a Jordanian national who was born and raised in Kuwait. He received his BSc and MSc from the University of Kent in the UK. He is versatile and self-motivated Senior Executive with 17 years experience in a wide range of corporate, business development and project management with cross-cultural experiences. Sami has been involved in setting up and managing Internet based and IT operations for over 14 years. Before setting up IBSPoint.com as a working brand of "Sami Al-Taher IT Est" he was the president and CEO of mecca.com, one of the largest social networks for the Muslims of the world. Before this he helped setup an IT consultancy service for the financial sector in the Middle East. Before that he was the CTO for Alturki Group, a major Saudi Arabian group of companies. Sami was a senior director and programs manager at Oneworld Software solutions a US based company with software development center in Jordan developing cutting-edge applications for world-class clients. In 1997 He started the first Internet based solutions provider, IBS, in Saudi Arabia. Sami has been a regular consultant for a number of portal, community and Internet businesses in the Middle East region.