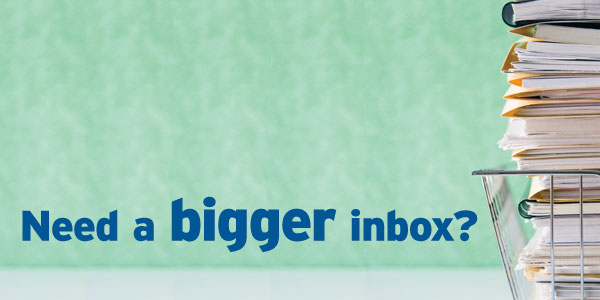 Exchange Hosting with UNLIMITED Mailbox Storage and Free SharePoint Site
Increase your team's productivity with the same tools they're already familiar with!

If you are looking for a reliable e-mail management solution for your business with all the latest bells and whistles for a reasonable price, and you want it now, then hosted Exchange 2010 from IBSPoint, is right for you. Businesses and individuals choose Microsoft Exchange hosting solution for the reasons of cost, convenience, reliability, productivity enhancing features, and excellent 24/7 support.
Exchange Mail Hosting from IBSPoint offers the best integration with the broadest range of clients; supporting a complete Outlook experience, from Outlook 2010 on the desktop to Outlook Web Access (OWA), ActiveSync with Direct Push Technology and Free 100MB SharePoint site.
Today's employees look for rich, efficient access to their e-mail, calendars, attachments, and contacts no matter where they are or what type of device they are using.IBSPoint delivers on all this in one hosted solution.
Low Cost Exchange Hosting:

There are significant upfront and ongoing costs to implement Microsoft Exchange Server 2010. IBSPoint, a leading provider of Hosted Exchange, SharePoint, and SaaS products has already invested in the required infrastructure and achieved economies of scale. Microsoft Exchange server from IBSPoint offers significantly lower costs than an in-house server. Further, when comparing hosted Exchange online plans with competitors, check if their plans include free ActiveSync, SharePoint, and 24/7 support. You will find that IBSPoint's hosted exchange pricing is among the best in the industry.
Very Convenient

IBSPoint's Microsoft Exchange hosting Plans offer the convenience of pay-as-you-go model with month to month billing, no setup fee and no long term contracts. Sign up today, and within minutes, start managing your business Exchange hosting account through a user-friendly web-based interface. You have choices of plans with storage space options for mail boxes, and you may modify Exchange online plans anytime through your account.
You have the option to keep your existing domain provider or purchase a new domain from IBSPoint. Through the split domain option, some users can be on the hosted Exchange platform, while others may stay on regular POP3 mail accounts.
Whether you are moving from an in-house Exchange or Lotus Notes mail server, an existing Microsoft Exchange hosting provider, or upgrading from POP3 or IMAP accounts, IBSPoint's experienced team is there to help you in migrating to our hosted Exchange online services.
High Availability and Reliability

In today's business, instant availability to e-mail and contacts is priceless. It is not uncommon for employees or IT staff to forget to backup their data. The penalties for such actions can be heavy. IBSPoint has the reliable infrastructure, support, and best practices that make sure that your data is safe and available all the time from multiple locations, browsers, and e-mail software. We have satisfied customers throughout the Middle East and other countries who are using our MS Exchange hosting services.